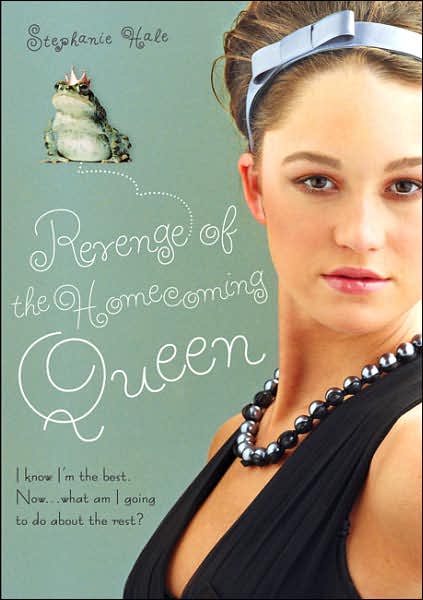 I wait for the crown to be placed on my head.
The great Aspen Brooks has everything. A great car, a great boyfriend (soon becoming Rand!!), great friends, and great clothes. You can say she has a great life, except something is missing. The Homecoming crown. She has waited for something like this her whole life, but come to find out, she isnt the one receiveing the crown, Angel Ives is. And that is the beggining of trouble. Aspen has come to find out she isnt queen after all but it makes it not so tough when she comes to find that the total nerd of the school is the King!!! Rand. Yuck! What a total nerdo! ha!! Angel must be so p/oed! She is the queen to the total nerd of the school.
Aspen takes it easy, not thinking much about it when she knows who the "royal" couple are. After the announcement is done the students start to scatter, excited for bon fire tonight to celebrate. She notices Angel scatter to the rest room, so Aspen follows her, and there is a horrible message written in cheap lipstick on the mirror. She knows its Angel who had written it because Angel said she was going to pay. And she deffinatly will.
A line of creepy events happen. Tires slashed, disguisting photos, and her missing inhaler almost leading to her death, Aspen knows its Angel. When the Queen disapears, Rand and Aspen fall in love, and arent afraid to show it ever since she has talked about it with her mother. But then her mom is kidnapped. So, maybe Angel isnt faking after all. But if she is missing, then who is the "beauty bandit" that has been torturing Aspen?
I really liked this book!!! It had so many surprises in it, and it had me at the edge of my seat the whole time reading it. I am totally looking forward to the sequel Twisted Sisters. This is one of the best books of the summer, and i really hope everyone gets a chance to read it!
TAGS: Series, girly, murder, mysteries, homecoming, kidnapping, spy, adventure, creepy, edge of seat book, fiction