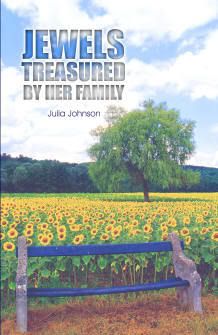 Do you remember
my review
for
Jewels Treasured By Her Family
, and how I said it was such a great book?
Well,
1
lucky winner will get the chance to win a signed copy, including 3 bookmarks, for
Jewels Treasured By Her Family!Here are the rules:
You must live in the U.S. Sorry!
You MUST comment to this post including your name, email, and/or blog link to get at least 1 entry

Additional Entries:
For 1 entry: Comment to this post, including email, name, and/or blog link
For an additional entry: Post this contest to your blog, including the link, the prize, and when the contest ends. Email me once you have done so, so I can mark you down!
For 2 additional entries: If you are already a follow, you will recieve 2 additional entries once you comment to this post! If you DO NOT, but will begin to follow after you read this, you will get 1 additional entry! 2=followers/1=nonfollower that will begin to follow! Once you follow me, email me or tell me at this post!

I will also include a random question every other day on the sidebar...the first person to email me with the correct answer, will receive an extra entry automatically! This event starts once I get 4 contestants to this contest! Once you have already answered 3 of the questions, you cannot answer anymore!!! I will keep track!

CONTEST ENDS: March 24Th!
EMAIL: Reviewabook123@yahoo.com
Maximum entries you can get: 6 per person!
Minimum entries you can get: 0 or 1
Special Thanks to Julia Johnson for donating a copy!